In 2014 Repsol Honda's sensational MotoGP™ World Champion Marc Marquez wrote the latest chapter in the story of an amazing career so far in Grand Prix racing for the 21 year-old from Cervera, Spain.
Marquez made his debut in the World Championship in 2008 as a 15 year-old and although his rookie season was curtailed by injury he made headlines by achieving a podium result in just his sixth race at Donington Park. He picked up another podium result in 2009 as he gathered further experience, before becoming a 125cc World Champion for the first time in 2010 by winning 10 of the last 14 races of the year.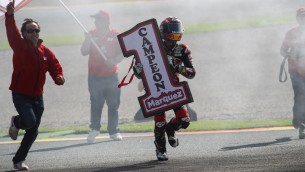 In the Moto2™ class the following season he won seven more races after a tricky start and he pushed hard for the title but lost out to Stefan Bradl, after a practice crash at Sepang halted his campaign. Despite ongoing problems with his eyesight from that accident which affected his 2012 preseason Marquez romped to the Moto2™ title that year with a total of nine victories and 14 podiums.
The young Spaniard therefore moved up to the premier class for 2013 joining the Repsol Honda team as the World Champion of the intermediate category.
Last year Marquez became the youngest ever rider to clinch the premier class world title in MotoGP™ thanks to a truly amazing debut season for the then 20-year-old. He also became the first rookie premier class World Champion for 35 years, winning for the first time in the premier class in just his second race in MotoGP at the Circuit of the Americas in Austin.
 Over the course of 2013 he would battle with the experienced trio of Dani Pedrosa, Jorge Lorenzo and Valentino Rossi, notching up six wins in total, but it was his brilliant haul of 16 podiums from 18 races which saw him win the World Championship. The title was sealed by four points over nearest rival and outgoing champion Lorenzo with an intelligent ride to third place in the last race of the season at Valencia.
The 2014 campaign saw Marquez raise the bar, with Pedrosa, Lorenzo and Rossi unable to challenge his searing pace and consistently powerful performances in the first half of the year. Marquez built up a huge lead in the championship with ten successive victories in the opening 10 rounds of the season and even a mid season blip in form which saw him off the podium in three races of a quartet of Grands Prix shortly after the summer break would not hold him back.
His win at Silverstone after a brilliant duel with Lorenzo and his second place in Japan proved to be decisive as Marquez wrapped up the 2014 crown with three races remaining.
Biography
Date of birth: 17th February 1993
Place of birth: Cervera, Spain
First Grand Prix: Qatar 2008, 125
First pole position: France 2009, 125
First podium finish: Great Britain 2008, 125
First Grand Prix victory: Italy 2010, 125
Grand Prix starts: 111
Grand Prix victories: 43
Podium finishes: 67
Pole positions: 48
Fastest race laps: 37
World Championship Wins: 125 (2010), Moto2™ (2012), 2 x MotoGP™ (2013 & 2014)
MotoGP™ Career:
2008: 125 World Championship – 13th position on KTM, 13 starts, 63 points
2009: 125 World Championship – 8th position on KTM, 16 starts, 94 points
2010: 125 World Championship – WORLD CHAMPION on Derbi, 17 starts, 310 points
2011: Moto2™ World Championship – 2nd position on Suter, 13 starts, 251 points
2012: Moto2™ World Championship – WORLD CHAMPION on Suter, 17 starts, 324 points
2013: MotoGP™ World Championship – WORLD CHAMPION on Honda, 18 starts, 334 points
2014: MotoGP™ World Championship – WORLD CHAMPION on Honda, 15 starts, 312 points